无论是教学科研,还是师生及校友服务,浙江大学管理学院秉持"三好四一流"文化,以世界一流的标准扎根中国大地办教育、做研究,收获颇丰。不仅成功构建起"商学+"人才培养生态系统,还在学科建设方面取得众多"一流成果"。
在过去的2019年,浙江大学管理学院学者们发表在国际国内顶尖期刊上的论文达数十篇。其中不乏管理学UTD24期刊A类核心期刊。
以下按出版时间排序。
出版:2019年2月
期刊:Journal of Consumer Research
题目:Money helps when money feels: Money anthropomorphism increases charitable giving
论文发表网站截图
该论文由周欣悦(浙江大学管理学院教授、博士生导师,国家杰出青年科学基金获得者)、王丽丽(浙江大学管理学院副教授、博士生导师)等合著发表。
论文摘要:Across five studies, the current research demonstrates that imbuing money with humanlike characteristics can enhance charitable giving. Based on mind perception theory, we propose that anthropomorphizing money can induce people to attribute to money the capacity to feel and sense (i.e., warmth) and the capacity to do things (i.e., competence). Further, we argue that enhanced warmth perception increases charitable giving. Studies 1a and 1b provided initial evidence that money anthropomorphism increased charitable giving by measuring real monetary donation behavior (study 1a) and by adopting a practical method to anthropomorphize money in charitable appeals (study 1b). Study 2 showed that money anthropomorphism enhanced both warmth and competence perceptions of money, but that only enhanced warmth perception increased donation intention. Study 3 showed that money anthropomorphism did not enhance other types of charitable giving, such as signature provision. Study 4 showed that the money anthropomorphism effect was unique to money and that anthropomorphizing other financial instruments, such as a credit card, did not induce the same effect.
出版:2019年4月
期刊:Journal of Marketing Research
题目:Targeted Promotions on an E-Book Platform: Crowding Out, Heterogeneity, and Opportunity Costs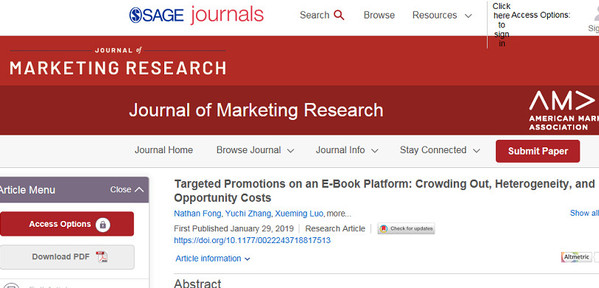 论文发表网站截图
该论文由王小毅(浙江大学管理学院副教授、博士生导师)等合著发表。
论文摘要:Targeted promotions based on individual purchase history can increase sales. However, the opportunity costs of targeting to optimize promoted product sales are poorly understood. A series of randomized field experiments with a large e-book platform shows that although targeted promotions increase promoted product sales and purchases of similar products, they can crowd out purchases of dissimilar products (i.e., e-books from nontargeted genres) by decreasing search activities of nontargeted goods on the same platform. The effects on total sales are heterogeneous, ranging from net decreases to insignificant drops, motivating a targeting exercise comparing strategies that optimize promoted product sales versus total sales. Targeting for promoted product sales tends to assign promotions to customers who purchased similar products, whereas targeting for total sales assigns promotions on the basis of other user characteristics. Targeting for promoted product sales generated incremental total sales that amounted to approximately 29% of the optimal incremental total sales when targeting for total sales (an opportunity cost of 71%). The optimal targeting exercise highlights how maximizing promotional lift can incur opportunity costs in terms of other forgone sales.
出版:2019年5月
期刊:Production and Operations Management
题目:Managing Supply Chains with Expediting and Multiple Demand Classes
论文发表网站截图
该论文由鲍丽娜(浙江大学管理学院"百人计划"研究员)、华中生(浙江大学管理学院教授、博士生导师)等合著发表。
论文摘要:We consider a periodic review, single-stage inventory system with multiple demand classes and a fixed replenishment lead time. Inventory expediting is allowed to alleviate demand-supply mismatches. Priority demands are commonly used in practice to provide differentiated services for customers, and inventory expediting is an effective strategy to improve the service levels of high-priority demands. However, it is challenging to coordinate the inventory ordering, expediting and allocation decisions in supply chains. We partially characterize the structure of the optimal policy. We also derive various monotone properties of the optimal policy with limited sensitivities. Moreover, we show that a state-dependent rationing level policy is optimal for inventory allocation and the optimal rationing levels are in fact independent of the backorder quantity of each demand class. We also show when some simple policies are indeed optimal. Numerically, we illustrate the optimal policy and investigate the performances of three proposed simple heuristics. Finally, we extend the results to more general systems, such as serial systems, systems with convex backordering costs, etc.
出版:2019年7月
期刊:Production and Operations Management
题目:Joint Decisions for Blood Collection and Platelet Inventory Control
论文发表网站截图
该论文由陈寿长(浙江大学管理学院管理科学与工程博士生)、周伟华(浙江大学管理学院教授、博士生导师)等合著发表。
论文摘要:The present study investigates the benefit of joint decision making regarding whole blood collection and platelet production at a blood center. We consider a blood center that faces two types of platelet demands, differing in their freshness requirements and shortage penalty costs. We fully characterize the structure of the optimal policy regarding whole blood collection, platelet production, and inventory issuing, rationing and disposal. We find that the optimal platelet production quantity in each period is nonincreasing in the inventory levels of platelets and whole blood but that interestingly, the optimal blood collection effort may increase with the on-hand platelet inventory level. We demonstrate with a real dataset that joint decision making leads to significant cost savings compared with separate decision making. The benefit is mainly derived from reduced blood collection and platelet production, better utilization of the collected whole blood, and reduced platelet shortage. For practical implementation, we develop a lookahead heuristic, which is shown to be very effective by numerical experiments.
出版:2019年9月
期刊:Mis Quarterly
题目:Operationalizing Regulatory Focus In The Digital Age: Evidence From An E-Commerce Context
论文发表网站截图
该论文由黄鹂强(浙江大学管理学院副教授、博士生导师)等合著发表。
论文摘要:Regulatory focus theory (RFT) has been regarded as an important theory for understanding customer behavior in e-commerce; however, there is a significant gap between theoretical analysis with RFT and its practical applications. In particular, there is little research on how to identify the chronic regulatory focus of customers; as such, it is difficult to apply RFT in e-commerce operations. To fill this research gap, we propose an innovative method to operationalize customer regulatory focus from the affective dimension, leading to operationalized regulatory focus (ORF). In this regard, our study spearheads a new avenue of research on how social theories can be operationalized and applied in e-commerce operations. We first identify customers' chronic regulatory focus (i.e., promotion focus or prevention focus) based on online review data using text mining, leading to an innovative method we refer to as "regulatory focus discovery." Then, we validate the computed results on regulatory focus by surveying corresponding customers included in the same dataset. Finally, we evaluate the applicability of ORF via an econometric analysis. In this article, we demonstrate that it is possible to compute regulatory focus of specific customers for the purpose of assessing their purchasing tendency. The theoretical and practical implications of ORF are discussed.
出版:2019年9月
期刊:Information Systems Research
题目:Personalized Mobile Targeting with User Engagement Stages: Combining a Structural Hidden Markov Model and Field Experiment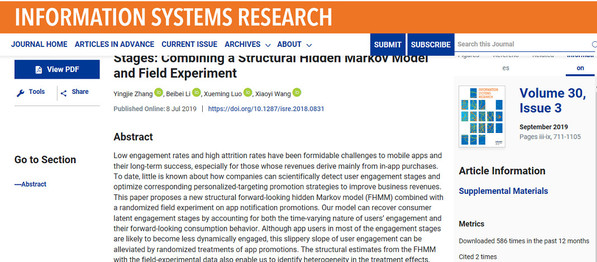 论文发表网站截图
该论文由王小毅(浙江大学管理学院副教授、博士生导师)等合著发表。
论文摘要:Low engagement rates and high attrition rates have been formidable challenges to mobile apps and their long-term success, especially for those whose revenues derive mainly from in-app purchases. To date, little is known about how companies can scientifically detect user engagement stages and optimize corresponding personalized-targeting promotion strategies to improve business revenues. This paper proposes a new structural forward-looking hidden Markov model (FHMM) combined with a randomized field experiment on app notification promotions. Our model can recover consumer latent engagement stages by accounting for both the time-varying nature of users' engagement and their forward-looking consumption behavior. Although app users in most of the engagement stages are likely to become less dynamically engaged, this slippery slope of user engagement can be alleviated by randomized treatments of app promotions. The structural estimates from the FHMM with the field-experimental data also enable us to identify heterogeneity in the treatment effects, specifically in terms of the causal impact of app promotions on continuous app consumption behavior across different hidden engagement stages. Additionally, we simulate and optimize the revenues of different personalized-targeting promotion strategies with the structural estimates. Personalized dynamic engagement-based targeting based on the FHMM can, compared with non-personalized mass promotion, generate 101.84% more revenue for the price promotion and 72.46% more revenue for the free-content promotion. It also can generate substantially higher revenues than the experience-based targeting strategy applied by current industry practices and targeting strategies based on alternative customer segmentation models such as k-means or the myopic hidden Markov model. Overall, the novel feature of our paper is its proposal of a new personalized-targeting approach combining the FHMM with a field experiment to tackle the challenge of low engagement with mobile apps.
只争朝夕,不负韶华。2020年,浙江大学管理学院将继续践行"把论文写在祖国大地上",向世界一流的中国管理学院稳步迈近。